Paid technical training with Hopeworks
Resource type
Resources for Job Seekers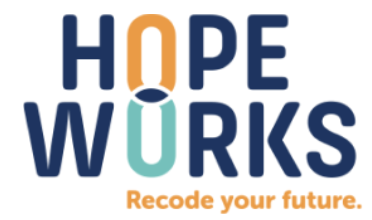 Recode Your Future
Hopeworks provides paid technical training in high demand skills such as front end web development, Geographic Information Systems (GIS) and data visualization.
Even with Hopeworks amazing support, it takes one last step to make our young professionals the exceptional employees they are. Success for our young professionals also requires real-world experience. 

To provide this experience, Hopeworks runs three real businesses - providing technology solutions for businesses in web design, Geographic Information Systems (GIS) and trauma training. 
"With a focus on skill development, real-world job experience, and trauma-informed care, Hopeworks propels young adults into long-term living wage careers that put them on the path for healing and financial stability"
Hopeworks is a social enterprise that uses technology, healing, and entrepreneurship to transform lives; on average, over 99% of young adults (aged 17-26) entering Hopeworks are unemployed, making less than $400 annually. young adults completing the Hopeworks program make, on average, over $43,000 annually, with an almost 90% 12-month retention rate in their jobs. That is the Hopeworks difference.

Our unique trauma-informed approach, combined with high-demand, high wage technical training and paid work experience helps young people not only get the job, but keep it, transforming their lives and the lives of their families.